Reveries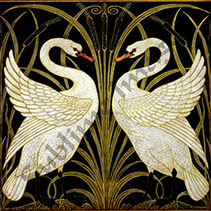 SWANS
In Roman mythology Swan was sacred to Venus, goddess of love. They surely exude the essence of angels, which makes them so captivating. I love their timeless elegance and beauty. They are a powerful metaphor of transformation, as told in Hans Christian Andersen's fairy tale The Ugly Duckling, a favourite bedtime story of mine.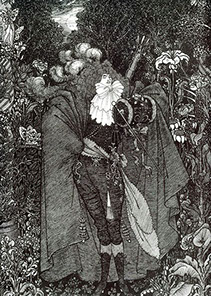 FAIRYTALE ILLUSTRATORS
Few things evoke childhood memories for me as powerfully as picture books. When I was younger I accepted magical worlds and transformations without question. I lost myself in the intricacy of the illustrations, which were like portholes to a fantasy world.
Illustrators who fired my imagination were Harry Clarke, Edmund Dulac and Kay Nielsen, who all brought a sense of awe and wonderment to the tales of Hans Christian Andersen and The Brothers Grimm.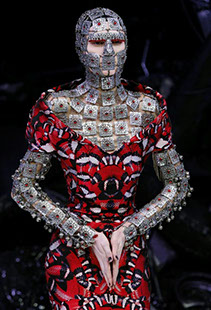 ALEXANDER McQUEEN
Alexander McQueen wasn't like any other fashion designer, and seeing his collections always sent me on an emotional journey, mysterious, disturbing and fascinating, like being dragged to the underworld. I loved the paradoxes he conjured, savage beauty indeed!
His intensity and technical accomplishments were a wonder (a dress made from razor clams,) which is why I regard his creations as being close to works of art. I can relate to his almost forensic attention to detail. His precious embroideries and the craftsmanship in his hand worked pieces have been inspirational to my collages.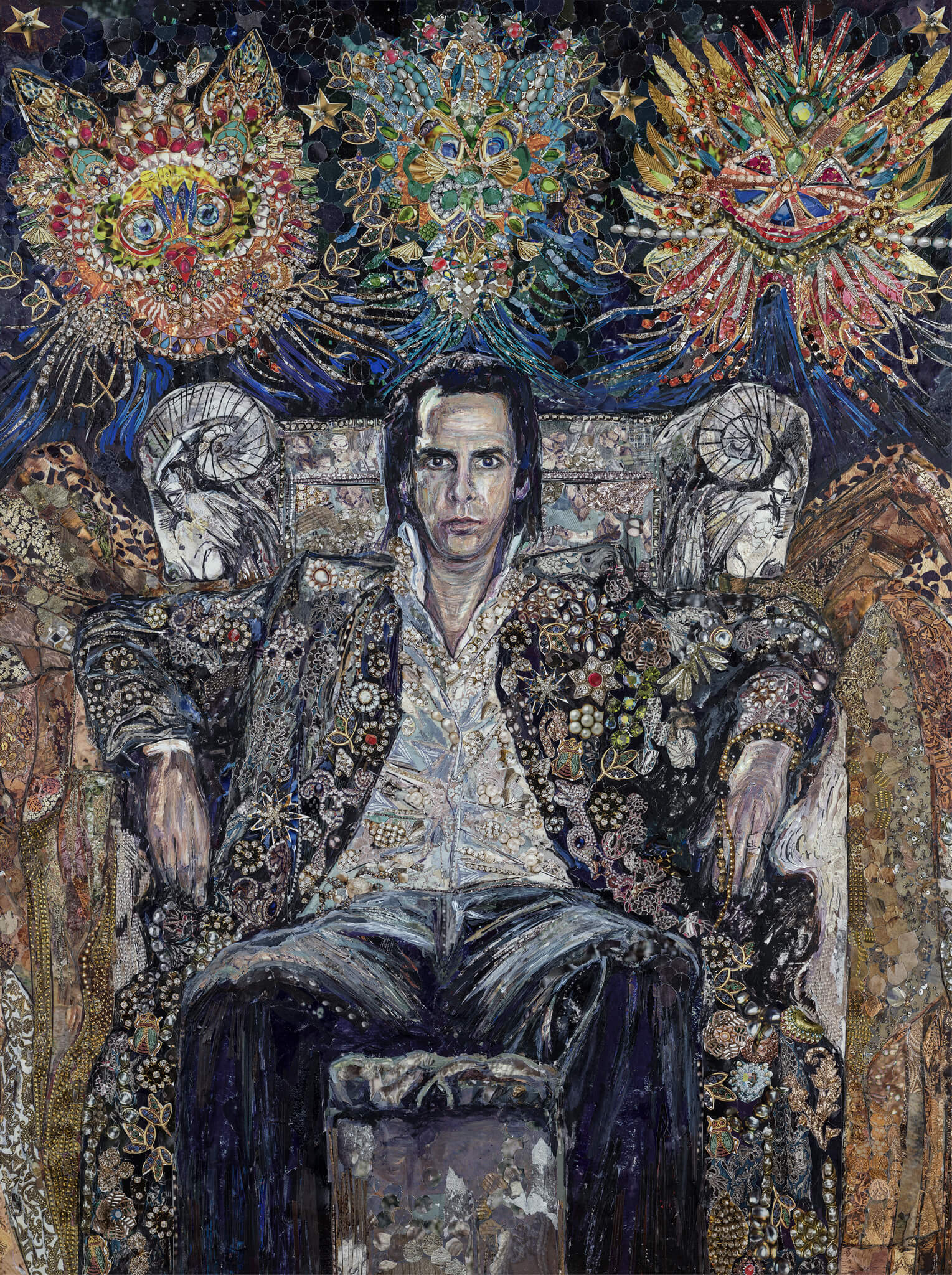 CAVE, COHEN & CASH
Music has always been an important part of my creative process. I always have music on. It provides a landscape on which to meditate on. It transports me to a particular time or place, and provides a certain mood for my daily collage endeavours. For this I need lyricists. Cave, Cohen, and Cash provide the unfailing emotion and drama. They are challenging, innovative trailblazers, and I have begun to pay tribute to each and everyone of them in my new and developing collage series "Tarot Stars". To them, I wish to say " thank you for the music"
Nick Cave – The Emperor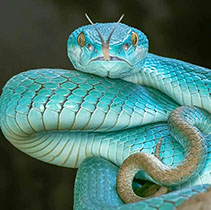 SERPENTS
I remember the first time I held a snake. It was surprisingly warm and dry, and I could feel its muscles working under its scales. I was struck by how extraordinary they are with their diamond shaped heads, bead like eyes and shimmering skin. I love incorporating them into my collages. They are such strong metaphors for rebirth transformation and immortality.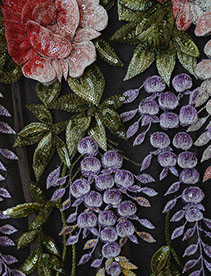 HAND EMBROIDERY
I compare the creation of my intricate collages to the meticulous art form of hand embroidery. As an art form embroidery can be traced back to the Iron Age. I love the idea that embroidery has endured over the centuries because the methods for creating the myriad array of stitches have been passed down from generation to generation.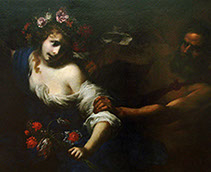 MYTHS & LEGENDS
How dull the world would be without these extraordinary stories of Gods and Goddesses, heroes and heroines and mythical creatures. I remember having a book on Greek mythology when I was a child. The illustrations were so powerful and made a big impression on me. I was particularly drawn to the story and illustration of Hades and Persephone, and of how he fell in love with her beauty while she was picking flowers in a meadow, and dragged her underground to make her his queen of the Underworld. I found this paradox of light and dark strange, brutal and appealing.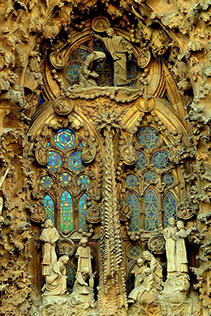 BARCELONA
I spent a decade living in this enchanting city, rich in history and fabled architecture. It inspired many artists including Antoni Gaudí, Pablo Picasso and Salvador Dalí, and it certainly inspired me. It proved to be a catalyst in my life, because after a 15 year career in jewellery design, I finally returned to being an artist, and so began my intricate collage assemblages.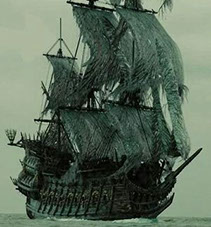 PIRATE SHIPS
I can't get enough of them! The folklore and imagery stokes the fires of my imagination, especially the legend of The Flying Dutchman. It was an infamous supernatural ghost ship, doomed never to make port. It collected all the poor souls who died at sea, and ferried them to the afterlife.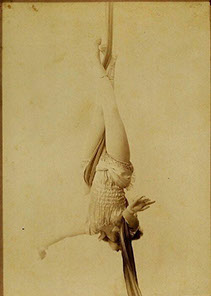 CIRCUS & TRAPEZE
"Welcome to the greatest show on Earrrrth!"
I often dreamt of running away to join the circus. When I was a child I often felt a sense of misplacement, and so I suppose I could identify with the restless thrill seekers and misfits that ghetto circus offered refuge to.
Oh, to have the skills of the trapeze artist, risking their lives for the love of their acrobatic art!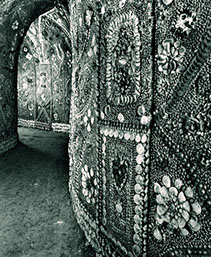 SEASHELLS & GROTTOS
Seashells and grottos are so aesthetically enchanting. Seashell Cottage in County Kildale was inhabited by Marianne Faithful for a time, but the owner was Emily Fitzgerald, and she decorated the walls with marine life that had been collected from all over the world. Another wonder is Shell Grotto at Margate discovered in 1835. It consists of 70ft of winding passages with walls decorated with strange symbols of mosaics made from millions of shells.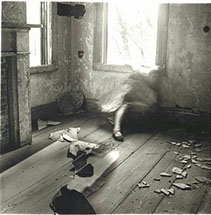 FRANCESCA WOODMAN
I greatly admire the photographic works of Francesca Woodman. She created a spontaneous theatre of self drama that was as dreamlike and beautiful, as it was nakedly real. Francesca's photographs featured either herself or young women, nude with faces obscured merging with their surroundings.
Her work continues to be the subject of much critical acclaim, however she committed suicide by jumping out of a loft window in New York, after becoming depressed due to the failure of her work to attract attention.
Many famous artists have tragically taken their own lives, and their works seem to hint at the dark thoughts consuming their creator.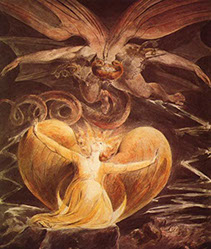 DRAGONS
One of my most beloved fantastical creatures, and the inspiration for many an artist, writer and story teller. Dragons as such potent totems of strength and protection.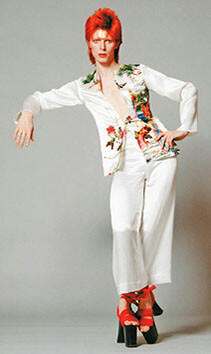 BOWIE
"I don't know where I'm going from here, but I promise it won't be boring." – David Bowie
Until the end, David Bowie was still capable of springing glorious creative surprises. He had a gift for dramatic statements constantly challenging music and fashion trends. He's on my play list and I couldn't create without him. His creative restlessness and and genuine intellectual curiosity was unrivalled.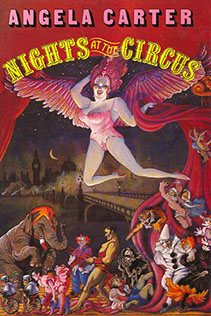 STORY TELLERS
The French author Charles Perrault laid the foundations for the fairy tale genre, creating his stories by reworking pre-existing folk tales. He wrote Little Red Riding Hood, Cinderella and Sleeping Beauty 200 years before The Brothers Grimm, so he certainly should be immortalised as the father of the fairy tale.
Angela Carter, an English novelist, captured my imagination as a young adult by her dark reworking of classic fairy tales. Her magical realism fiction dazzled and inspired me with it's sexy and brutal portrayal of gothic horror, science fiction and folklore themes.
She was a complex, sensual and highly intellectual woman.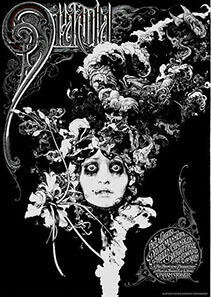 VAMPIRES
I recently re-watched Francis Ford Coppola's Bram Stoker's Dracula, inspired by the original Bram Stoker novel. I was completely taken over by the gothic romanticism that Coppola evokes, and the idea of eternal love, in this case, the vampire vows to wait forever for the return of the woman he loves. It really is a gothic extravaganza with images of victorian London with gas lamps, fog bound streets, top hats and bustiers. It reminded me of how transfixed I was as a child by tales of these supernatural, shape shifting, nocturnal creatures, and there's little wonder they have featured prominently in the genre of folklore for centuries, and why they continue to thrill in the present day.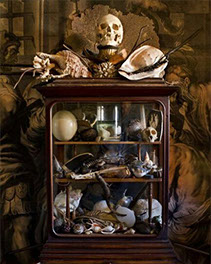 CABINET OF CURIOSITIES
They are quite simply cabinets of wonder, like a little memory theatre of the world. I love scouring the internet for images of magnificent sixteenth and seventeenth century cabinets, with surfaces occupied by stuffed mammals, mineral specimens, horns, skeletons and exotic man made objects. Often they would contain a mix of fact and fiction, including apparently mythical creatures.  I have tried to recreate their magic in several of my collage pieces, juxtaposing objects belonging to natural history, archaeology and curious antiquities.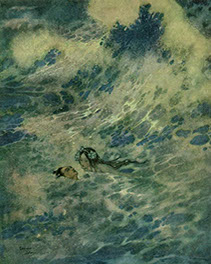 MERMAIDS
Long afloat on shipless oceans
I did all my best to smile
'Til your singing eyes and fingers
Drew me loving to your isle
And you sang, "Sail to me, sail to me, let me enfold you"
Here I am, here I am waiting to hold you
Tim Buckley – Song To The Siren
Do I believe in mermaids? I live on the coast in Brighton, and have a sea view from my studio. I like to imagine there are mermaids swimming through the waves, out to the distant seas.
I think that mermaids are the most exquisite legendary creatures, half woman half fish. The first stories appeared in Assyria, in which the goddess Atargatis transformed herself into a mermaid out of shame for accidentally killing her human lover. In folklore they can be both beneficent or benevolent, and I am drawn to that dangerous paradox.
I have many more siren-esque collages in my head, just aching to be created, and I will endeavour to try to capture their timeless allure.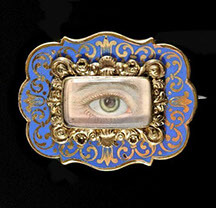 LOVERS EYES
Back to the Victorians again. I simply can't help myself! I love these miniatures of single human eyes set in jewellery which were given as love tokens of affection or remembrance.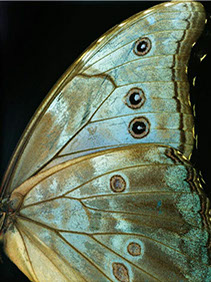 BUTTERFLIES & MOTHS
As a child I remember thinking that butterflies were like flying flowers, transient and delicate, and their wings reminded me of stained glass windows. The symbolic meaning they hold is of transformation, like the swan due to their process of metamorphosis. They are deep and powerful representations of life, the human soul and psyche.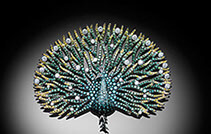 PEACOCKS
I have always thought of peacocks as otherworldly. A magical creature, wearing an extraordinary intricately embroidered turquoise cloak I never tire of using them in my collages, and if the composition doesn't require them, I will find a way to include a peacock feather or two. Their appearance in folklore, mythology, even the bible, and the superstitions surrounding them, fascinate me. I never think of them as a bird of bad omen. They are deities, powerful symbols of resurrection, guidance and protection, their feathers like one hundred all seeing eyes.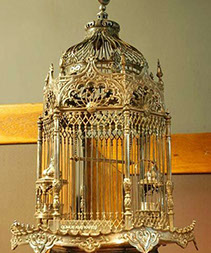 ORNATE BIRD CAGES
I have on going love affair with ornate Bird Cages, minus the birds of course. I find these delicate and sometimes architecturally elaborate bird houses aesthetically magical, and the metaphor they convey for lost freedom is very poignant.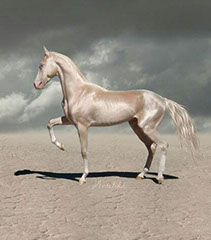 THE AKHAL TEKES HORSE
Almost mythical in appearance with a precious metallic shimmer to their coats and known for their speed, the Akhal Tekes horse is rare indeed, and there are only 3,500 left worldwide.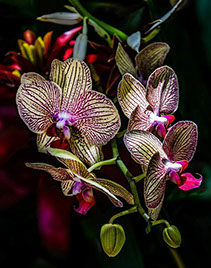 ORCHIDS
I remember stumbling across an orchid exhibition by chance, whist living in Barcelona. It was held in the beautiful Victorian conservatory at Cuitadella Park. My love affair with these exotic other worldly beauties began there and then. In the Middle Ages orchids were used to make love potions, is there any wonder?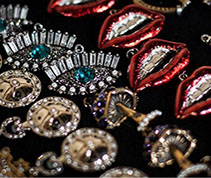 LUCKY CHARMS
I had a charm bracelet as a child, and I remember it was silver and had three charms dangling from it, a key, a padlock and heart. I coveted it, and began to collect more trinkets over time. I'm quite superstitious, and always chose lucky totems, such as four leaf clovers, anchors, and horse shoes.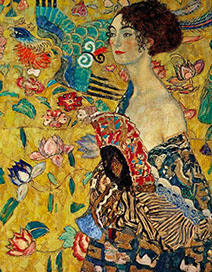 GUSTAV KLIMT
"All art is erotic"
One of the greatest decorative painters of the twentieth century in my opinion. I love to gaze upon his work. He had his own highly personal, eclectic and quite often fantastic style, which meant that he had virtually no direct followers!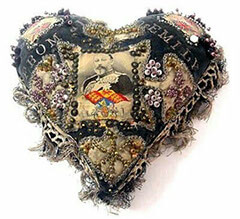 VICTORIAN LOVE TOKENS
I am touched by the sentimentality behind these beautiful Victorian pin cushions. They were given in World War I to remind the brave and distant soldiers that they were never out of mind. Often heart shaped, with elaborate beaded decorations in the form of a cross, anchor or heart.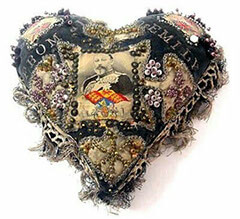 ICONIC JEWELLERS
My studies in silversmithing and jewellery design at Guildhall University immersed me in a world of precious metals and precious and semi precious stones. I poured over books of iconic jewellers such as Bulgari, Cartier, and Van Cleef & Arpels. Their elaborate, ethereal concoctions of rare gems and diamonds mesmerised and inspired me, and now, as an artist, they creep into my collages continually.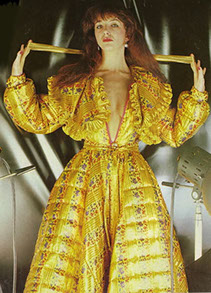 KATE BUSH
She wanted to test her husband
She knew exactly what to do
A pseudonym to fool him
She couldn't have made a worse move…
Kate Bush – Babooshka
Surely one of the most influential women in music. Her tales of heroes and heroines, sung in her trademark voice, with her wild auburn hair and bohemian style instantly drew me into her mysterious and sensual world. She stood out from the rest of her pop peers and I greatly admired her punk meets pre-Raphaelite individuality. A true original, and I created a Kate collage, transforming her into The High Priestess for my Tarot Stars series.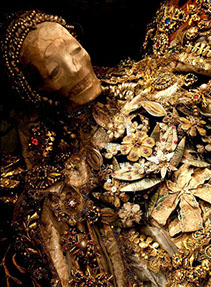 THE CATACOMB SAINTS
Whilst googling curiosities, I came across the fascinating and mysterious story of the Catacomb Saints. In 1578 a network of labyrinthine tombs were discovered beneath the streets of Rome. The tombs were home to decayed skeletons of early Christian martyrs, believed to be Saints. The Saints were clothed in expensive cloth and adorned with precious jewellery and distributed across Europe. They were put on display in churches as a reminder to all who visited, of the riches and wealth that awaited in the afterlife.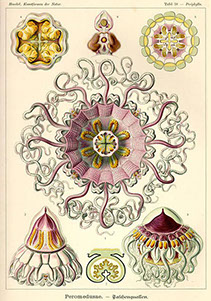 ERNEST HAECKEL
I continue to be astonished by the Hacker's illustrations for his publication of Art Forms Of Nature. He is proof that when art and science collide something sublime can come to pass. He was a philosopher, naturalist, professor, physician, biologist and artist. His illustrations positively glow in colour, and look like something from a science fiction film. I can only imagine how his Victorian audience reacted to their exoticism!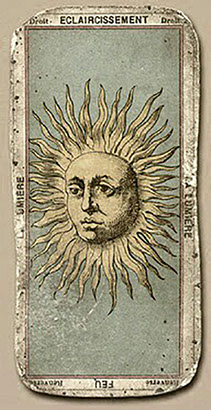 FORTUNE TELLERS & TAROT
I've always loved the idea of Fortune tellers, from the magic of mechanical coin operated vintage fortune tellers found at fair grounds to the mystical practice of reading fortunes using tarot cards. The tarot have intrigued me for years. It's incredible to think that the earliest deck was created in Italy in the 15th century. I especially love the eerily beautiful artwork on vintage tarot cards. The images are so mysterious and powerful, subtly capturing the atmosphere of each card and its meaning. I am slowly creating my own unique tarot pack turning my music icons into tarot characters. Watch this space….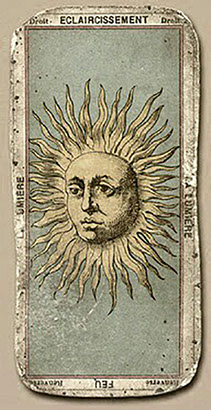 SNOW GLOBES
Snow globes were invented by Erwin Perzy, an Austrian producer of surgical instruments. These transparent spheres, enclosing liquid, glitter and miniature scenes are quite simply magic. I fell in love with the Prince Regent's folly, The Royal Pavilion when I moved to Brighton in 2013, and decided to create a Snow Globe inspired collage to capture its ornamental beauty. The greetings card I printed from the original piece is on sale at The Royal Pavilion museum gift shop.